About Teamplay
Teamplay is getting ramped up and we've started closed demo events during sping of 2018, from where we expanded to open events on August 2018. We're based in Salo and work between Turku and Helsinki. At the moment we can be best reached through social media or email.
We work with companies and organizations by providing equipment to get in to the world of esports and try out how it feels, on regular basis as well. esports is demanding and in team based sports (not all eSprorts is played as a team) there is a common base for success: Team spirits, communication, preparation as well as individual skill.
People behind Teamplay are active hobbyists on esports that see the future and want to invest in it. Here is a little something about who we are.
Tanja "Cobb" Suoninen
Game enthusiast who has also played hundreds of different boardgames. Got her stripes for guided activities with years of work experience with children and young adults, as well as customer service.
Role: Event manager
Active games: Ghost Recon: Wildlands, Counter Strike: Global Offensive, Civilization IV: Beyond the Sword, Tropico 4
Backstory: Did electronic gaming before the internet: Home version of Pong, 8-bit Nintendo, handheld games and Amiga 500.
Gaming history: Civilization (All until V), Unreal Tournament 2003 and 2004 (mostly iCTF), different hockey games.
Hobby history: Leader of an European UT2003/2004 clan (N4$), ClanBase Admin, Cup Supervisor (Open Cup and EuroCup).
Tero "Törö" Jokela
A multitalent with 25 years of different gaming systems under his belt. Used to be a construction foreman, now spends his time in an office. Played floorball in lower division, throws plastic discs in forest during summer and makes knives on the side.
Role: Event operator
Active games: Ghost Recon: Wildlands, Overwatch, Counter Strike: Global Offensive and a bunch of single player games, such as Witcher 3 and Shadow Warrior 2
Backstory: A long time ago, in a galaxy relatively close, lil' Törö got a hold of his cousin's Nintendo...
Gaming history: Doom 1/2/3, Duke Nukem 3D, Unreal Tournament 99/2004/3, Battlefield 3/Bad Company 2, Serious Sam, Shadow Warrior 1/2, Call of Duty: Modern Warfare 1/2/3, Half-life 1/2 with their mods.
Hobby history: During the journey I've gotten familiar with Amiga 500, Nintendos NES/SNES/N64/GameCube/WII(U+), PS3, PC and some iconic games, such as Cannon Fodder, Super Marios and Mario Karts, Smash Bros, Zeldat, Golden Eye 007 and many others.
Sampsa "reaper" Suoninen
A long line active enthusiast, who thinks games are a good way to do things with your friends and spend time. Mid-level metal man and a father of a few though younglings.
Role: Tech and event assistant
Active games: Ghost Recon: Wildlands, Counter Strike: Global Offensive, Playerunknown's Battlegrounds
Backstory: A long history of gaming enthusiasm that got started at the the turn of 90s with Commodores, played CS before it was cool or even it's own game. Involved in organizing a few LAN tournaments around turn of the millenium, among which the first Verkkopelit events in Joensuu.
Gaming history: A list way too long, but on multiplayer aspect the most important ones are: CS 0.X, Day of Defeat, Medal of Honor: Allied Assault, Unreal Tournament 99/2003/2004/3, Quake 1/2/3 and Wolfenstein: Enemy Territory.
Hobby history: Leader of a Finnish UT2003/2004 clan, ClanBase Match Admin.
Marko "Nonstop" Kotalainen
Continiously step out of your comfort zone and your mind will be more advanced!
Role: Event assistant and video editing
Active games: Counter Strike: Global Offensive
Backstory: In addition to gaming does kickboxing, carting and snowboarding.
Gaming history: Battlefield 4 on of the favourites. Played UT2004 on EuroCup level in Clanbase.
Hobby history: Wide experience in different kinds of games.
Pictures about our gear
We've chosen our gear carefully to suite gaming and look amazing while doing it, as traditional LAN experience involves showing off your gear. Our partner for hardware is Jimm's, having years of experience and active participation in esports is a perfect partner for us.
We've included some pictures about getting and building our units, ask away in e.g. social media for details!
Went and got our hardware... It does not fit. Most of our displays had to be picked up on another run.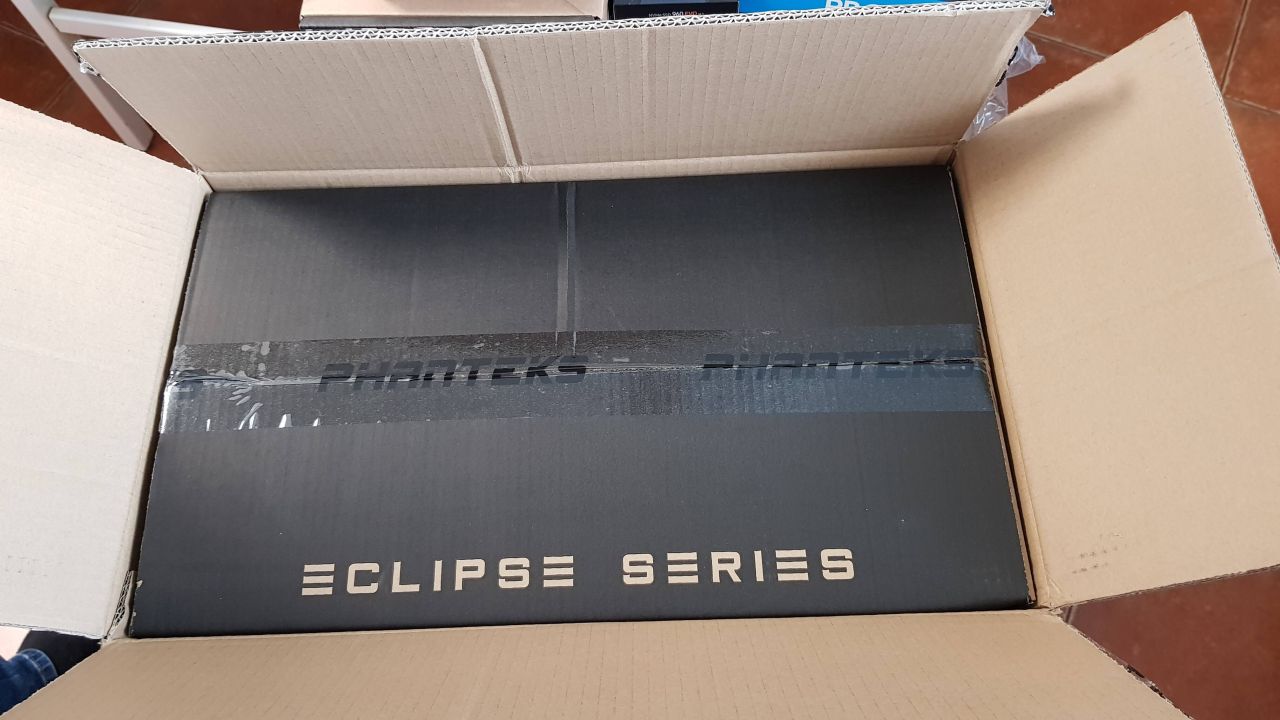 Opening a Phanteks box and inside we found another box? Anyone got flashbacks about "Pimp My Ride"?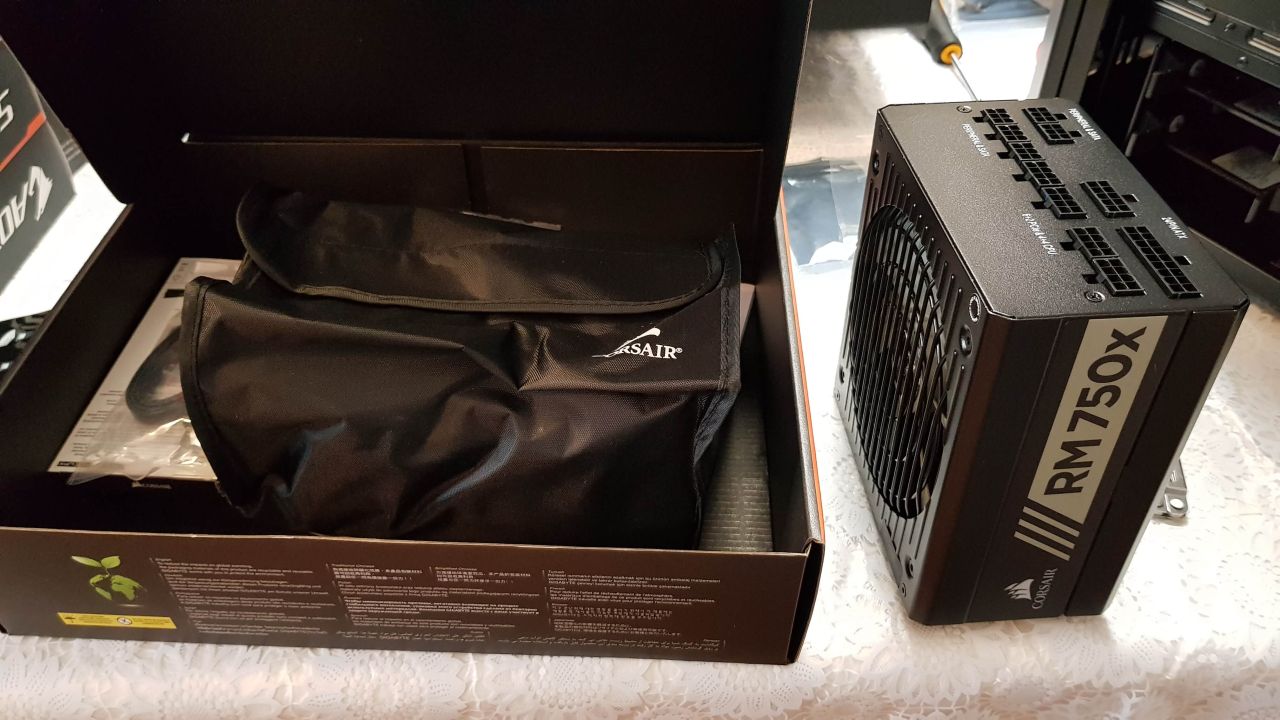 Carefully selected power supplies. Many put little effort to these, but they happen to be the most critical part in the main unit; If it breaks, the whole unit might be a goner.
Black on Black? First main unit in the works.
Nonstop making sure Aorus graphics card is secured tightly.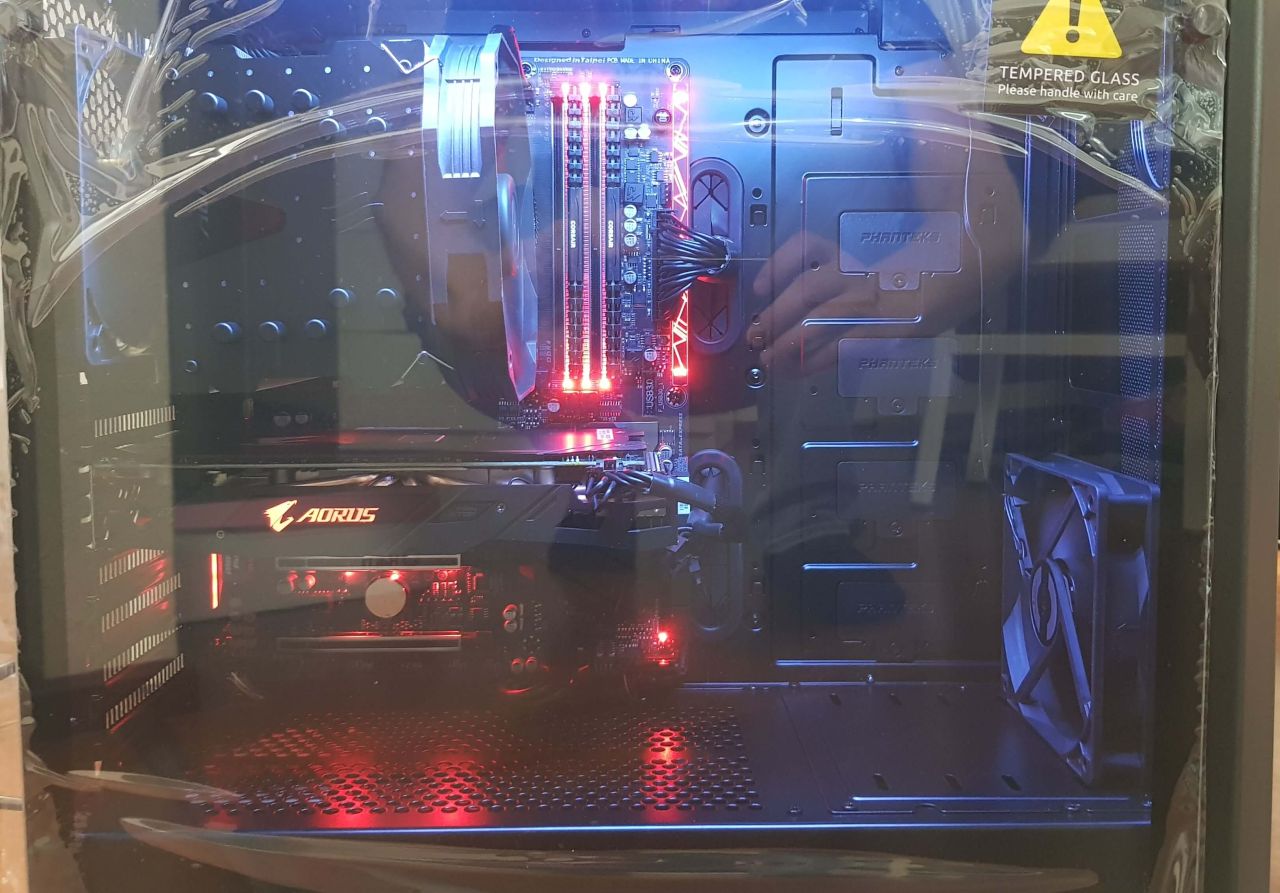 Taking the first one for a spin, starting to look a lot brighter!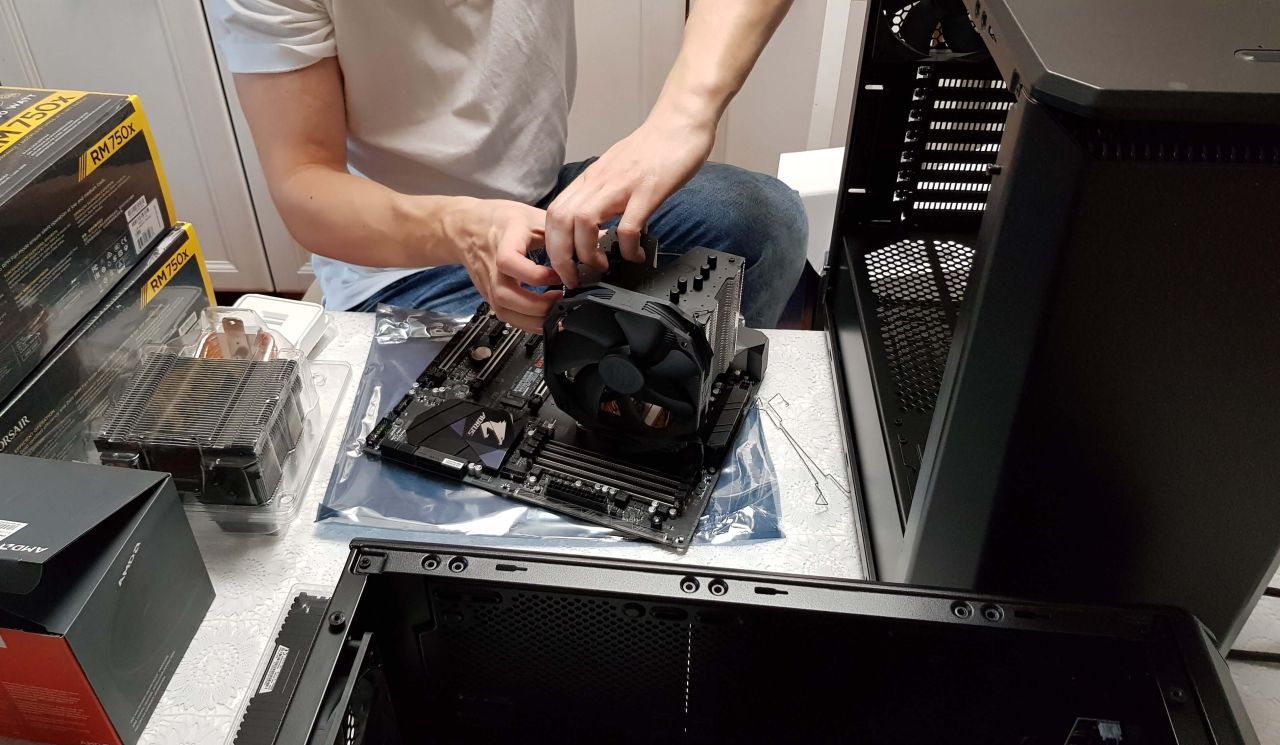 Aorus AX370-Gaming K5 and SilentiumPC Fortis 3 HE1425 v2 meet. Fan clips are always as much fun.
Kuusi kasassa, neljä odottaa vuoroaan. Mukava yksityiskohta Phanteks P400S kotelossa on lasiseinän lisäksi magneetilla kiinni olevat tuuletusaukot kotelon katossa.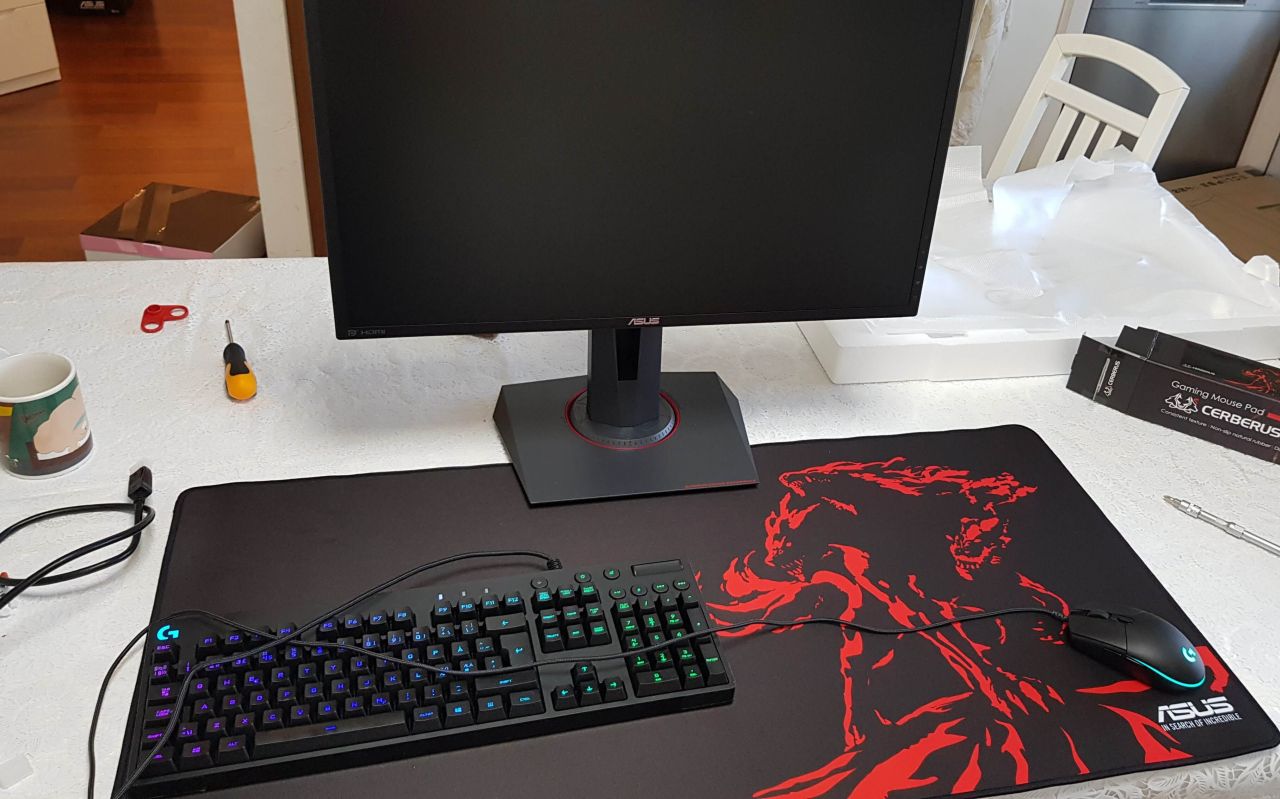 Accessories in one featuring Asus and Logitech, our HyperX Cloud II headsets are still in the wraps though. Next up is software!
Book a time
Bookings by email or phone.